perfect from now on.
I figure coming from the blog-dead includes me doing something that I hardly do. Okay, so something that I
never
do, and something that I'll probably never do unless something moves me to do so.
But if you know me behind the bloglines, you know I'm not a reader. Book reader, that is. I hate reading. I've hated it ever since I was a child because I was stuck reading books like "Rascal" and "Harriet the Spy," which I suppose are both children's classics in their own right. However---if you flashback to a young me, you will note the chubbiness in my cheeks and the stubbiness of my legs. I liked watching "Night Court" even though I didn't quite understand what they talked about, and I loved to stay up to watch Arsenio because it satisfied my R&B/Urban Contemporary thirsts. In conclusion, you will see a child in front of you that does not read unless forced. And by forced, it's always those damned summer reading lists. Can we do away with those? (I'm kidding. But I sure as hell wished they would do away with those when I was a wee lass.)
This is the part where I tell you that it's ironic that I hate reading, because I absolutely love to write. Letters, email, snail mail, cards, short stories, screenplays, announcements, letters that scold people without like a righteous ass, whatever. Anything that needs to be written, I'll get it done. I hate going to the bookstore because to get to the magazines, I must pass books. While wandering around North Beach the other day, I actually wandered into (for the first time) City Lights Bookstore, one of the most famous bookstores in the history of the universe. Some guy named Kerouac hung out there (unclutch your heart, dear hipsters: I know who he is). It's just downright famous if you ask me. I went in there and quickly stepped out. I felt like books were going to rain down on me at any moment, as if to know there was an intruder in their presence. Like on "Lost," how the French chick calls the black smoke the security system. I'm sure all bookstores have a reaction when they smell foul.
But lately, this so-called "I don't read" soul has stepped into bookstores and not winced at the sight of thousands of spines and booksleeves that don't interest her. I guess this is due in part to the fact that I've acquired an internship as as music reviewer, and with this, I've had to expand my vocabulary slightly (how many ways can you say "awesome" without saying it with that word?). And I figure since I'm writing about music--- I might as well know about it other than whatever I think I know about music.
So one fateful moment in Borders, I decided to check the music section, and there are tons and tons of music books. Books on rock, books on pop, books on Britney Spears that I laughed at, and so forth. I didn't want to read about rock music for some reason, but I still looked through the standard book on The Beatles or how John Lennon changed music. Yawn. My dad has that stuff.
There were two books that caught my eye. The first being "Love Is a Mix Tape: Life and Loss, One Song at a Time" by Rob Sheffield, who writes for
Rolling Stone
. It's more of a true story rather than fiction, but the idea of music fiction/non-fiction is the first thing to intrigue me since I discovered bit torrents (another day, another topic). The second, of course, was this book that caught me off guard: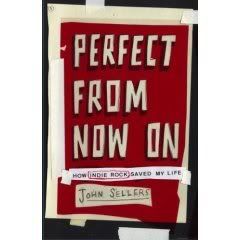 "Perfect From Now On: How Indie Rock Saved My Life" by John Sellers is not what I thought it would be. And the questions of the moment are: what did I think it would be, and why in the world would you pick now to talk about it, let alone recommend it?
Answer: I don't know (and cue the Jim Halpert puzzled look).
But what I do know is that I loved it from the moment I read it. The first words in the book are "I hate Bob Dylan" and for the love of me, I don't know anyone who does. It's one of those crazy things that it seems like everyone and their mom loves. Sellers' dad worships Dylan, and I have to say, my dad worships Dylan, too. I bought my dad one of Dylan's most recent, and while Dylan is good, I can think of a million other things I'd rather listen to in the car than any more wax-poetic tunage from back in the day. (By the way, in the car while with my dad, lately it's been The Beatles' "Love" soundtrack. I enjoy The Beatles, but sometimes, I think a break is due. He's been spreading his wings a bit, and I think he's now obsessed with The Shins and their awesomeness. It started when I lent him the "Garden State" soundtrack.)
Part of the title is "How Indie Rock Saved My Life" and with that title, I figured it had to be good. And seriously ... I think this book is perfect if you've ever obsessed about a band. Sellers fancies Guided By Voices, which I'm sad to say, I've never heard a record by. But reading about his fan-boy devotion just made me want to pick up "Bee Thousand" (almost did; ran out of money) and also--- this is the sign that I'm truly interested in something --- Wikipedia-it or YouTube them. His fandom reminded me a little bit of myself by some of the bands that I've found myself obsessed with at some point in time--
Wham!
(when I was like, FIVE),
Immature
,
The White Stripes
,
Green Day
,
N.E.R.D.
... and most importantly during my youth, a secret love affair with
Hanson
. That's right: I said Hanson. And if you don't know, now you know --- "The Walk" hits stores May 22nd in the US. I've previewed some tracks (okay, all) and it's their best album yet. I also YouTubed their Underneath Acoustic tour and put on my favorites
Part Two
, because it includes two of my faves from "This Time Around," which are "If Only" and "Runaway Run." The last one was arranged quite differently from the original, and I have to say I totally fell back into love. Or obsession, which ever you might think is the right fit for me.
Sellers also mentioned that someone says that you should never meet your heroes. This is a major thing for me when I go to concerts of people I enjoy. At the last
Jason Mraz
concert I went to, I had some butterflies once he began to play, mainly because I thought that maybe he'd be outside to meet the fans and such. He wasn't, but the thought of him being outside signing, or the thought of him walking down the street to the 7-Eleven made me go crazy. What if I ran into him? What would I say? Would he think I was stupid?
And that's another thing: while I love Mraz with all of my heart and soul, I kind of liked him better when nobody knew who he was. I had heard about him through an ex-blogger, and I remember going to the store to buy "Waiting For My Rocket To Come" out of curiosity. I had yet to start my obsession with singer-songwriters, and Mraz was the ticket into heaven. I began buying everything he recorded that I could get my hands on, and I just thought to myself: job well done. I think the minute he became super popular was the moment that I realized he wasn't technically "mine" anymore. Actually, the moment I realized he wasn't mine anymore was when this chick in front of me sung every single lyric to every one of his songs at his acoustic show at The Fillmore in '05. It was deathly quiet during "Please Don't Tell Her," which sounded beautiful acoustically without all of the hoo-hah production, and all I could hear was HER VOICE. She ruined the experience for me, and I will NEVER FORGET IT. I hope someone ruins something she loves. (That's the worst I can wish on someone without wishing their tragic death.) Other artists I liked a whole lot more when nobody cared: James Blunt, N.E.R.D.,
Plain White T's
,etc.
I recently overcame my fear of meeting my heroes when I went to an in-store at
Amoeba
, starring
Sondre Lerche
. Oh, how I loved that show. Is it just me, or does everything sound better stripped down? My favorite track that he played was "On The Tower." It was the first time I heard it, and it's one of those songs that'll get you the first time. Overwhelm you, emotionally or something crazy like that. Whatever. I actually went up to him, met him, mumbled "You played a great set" and he said "Thank you" in his awesome Norwegian accent, and I took a picture with him. I was also sweating very, very badly.
But, what's this really about? Oh yeah. Reading "Perfect From Now On" really just solidified all of the thoughts in the back of my head I never got a chance to say out loud, or think about in full detail. I'm making it my first (and most likely last) recommendation for all you kiddies out there who "love" to read. If you've ever loved music, here's your chance to read about a guy who probably loves music more than you ever could. I've picked up some great tips, both music-wise and just in general about loving your favorite bands. Hopefully I've learned something. Haven't figured out if there was a moral to the story yet. (There probably was. But things go over my head. Not because I'm short, but because I'm slow.)
Buy it at:
Amazon
.
Visit:
Angry John Sellers
,
mySpace
,
johnsellers.net
Labels: john sellers, long, music