general hospiTALE: seriously, WTF?
Pic courtesy of

Wikipedia.
Also, this shot is from the 1984 credits, which quite frankly looks lame but who cares.

While I love me some soapy goodness, and have since I was probably five (Y&R with Grandma), I have come to realize that soaps are nothing but that: soapy goodness. Ludicrous, gratuitous, conspicuous (?) soapy goodness.

I admit it: I have had an on-and-off again love affair with "General Hospital." Over the years it has thrilled me, disappointed me, thrilled me, bored me to death, disappointed me for probably three years straight, and then thrilled me once again. I suppose it's me being co-dependent on a world that does not exist, but then again, I just think that sometimes the stories that they come up with reel me in (case in point: the monkey epidemic that briefly brought back Robert Scorpio and Anna Devane, Laura waking up for a minute, Patrick and Robin, etc).

If there was a character that I had to pick as my all-time favorite, it is the wonderful Lucky
Spencer. The son of the legendary Luke and Laura, he was cute, fun, and oh so dreamy. This was when he was played by Jonathan Jackson, my first true teeny bopper crush (if you don't count Mike Myers. He was cute by default of being so damn funny). And quite frankly, if you asked me a couple of years ago who my favorite female character was, you know damn well I would have said Elizabeth "Lizzie" Webber.

And now ... here's the problem: I don't like Lizzie anymore. Why? Because she has become the epitome of what's wrong with most soap characters these days by the sheer fact that she has not been held accountable for ANYTHING (at least not lately). My god, do you know how many free passes this chick has been given? Hmm, leaving some dude in a burning building to die while pregnant with his child? Check. Lying about the paternity of your newborn son in order to "save" your husband? Check. Lied to the real father only to tell him the truth when you thought you were going to die? Check. Lying every day? CHECK, CHECK, CHECK. I would like to recall a line uttered by Lizzie herself back in the day when she was seen as underdog #1 compared to her saint of a sister Sarah: "What is she, the poster girl for perfection?"

My answer? No. I frankly think that the writers of GH have not only destroyed Lizzie, but in fact, destroyed Lucky in the process. Yeah, he was addicted to painkillers. Why? Because some hussy named Maxie Jones has been in love with him since she was a kid and the only way that she could get him to notice her was to feed him drugs. Yes, this caused Lucky to lie, cheat, steal, you name it. And hell, Lizzie has never let him forget about it. Lucky, so blinded by his love for Lizzie finally came to the realization that the drugs were no good, so he quit and did everything to change his life around. Meanwhile, Lizzie slept with Jason "the Borg" Morgan out of spite when seeing Lucky and Maxie together, thus creating Jacob Martin (oh, how clever you are Lizzie). She then convinced herself that she didn't want to be with Lucky OR Jason, and decided that she would be on her own. But then Lucky, bless his heart, decided that he couldn't fight for her anymore. He wanted to let her go. Free pass dished by Lucky? I THINK SO.
But NO. Lizzie took this as a "For the first time I saw that boy I fell in love with" sign and decided that she wanted to marry him again. Why, oh why Lizzie? You had a free pass! You didn't have to tell Jason (yet) and you didn't have to tell Lucky. But no, you just had to complicate shit. Great. Fan-tastic.


So you can imagine me feeling absolutely no sympathy when Baby Jake got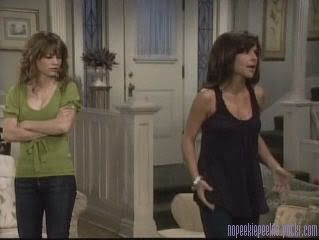 kidnapped. okay, I know. A child being kidnapped is terrible, of course, but this is the soap world, so I think I get a free pass (my first since Lizzie has hogged all of them). Lizzie of course blames.. Okay, herself, and all I could do was laugh when Lucky blamed her too! Hahaha! That's right, Lizzie. YOU did this to Jake. Meanwhile, the borg finds out that his kid has been kidnapped and he emotes the same way a breadstick can: crummy, but still firm. The story is still ongoing, but I have a feeling Baby Jake will turn up soon enough. However, heads are turning towards a certain someone who knows that the baby is Jason's ... hmm ... a certain disgruntled girlfriend perhaps? ... (I find myself feeling sorry for Sam, by the way. Never thought I would see the day that I would side with her rather than Lizzie. That's how I know it's bad.)

But how I feel about Lucky and Lizzie has depressed me far beyond I could have ever dreamed of. I remember their love in the early stages, and now it's all shot to hell. I suppose Lizzie always felt this obligation to Lucky, hence the "boy I fell in love with" remark, especially since he practically "saved" her after her brutal rape on a cold Valentine's night. But of course, as bad as Lizzie was, she couldn't resist the badass charms of Jason Morgan; I suppose Lucky always knew that she felt drawn to him. Now there's this triangle that has been created out of that history, and I suppose it makes for a compelling storyline, but at the same time, a part of me just wants to go through the screen and ring their necks. The lies are what truly get me because how on earth did Lizzie come to the conclusion that passing someone else's baby off as Lucky's would make everything right? Not only does it shut out the true father, but it just makes the whole situation more complicated---to a point where the truth explodes out of nowhere and ruins many lives. All the while, this makes for good television as I witness someone's world spiraling into a black abyss.

Anyway. That's how I feel about the whole thing.
Visit:
General Hospital Happenings
,
Clarissa's GH Screencaps
(where most of the screencaps are from),
GH @ Wikipedia
Labels: long, television