not like them?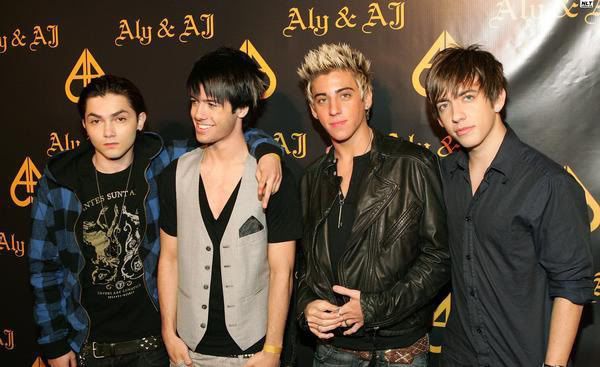 From left to right: ... sorry, don't know.


During the recent allegations of super producer
Chris Stokes
(Immature, B2k)
going on Lou Pearlman
on his acts, I discovered through
Oh No They Didn't
that Stokes is one of the driving forces behind a "new" boyband called
NLT
.
Now, don't judge me, but hot damn ... I LOVE THESE GUYS. I don't know why, but I solely believe that I'm interested in this group because they're a couple of guys who decided to form a boyband-like harmony group who dances. Also known as the next *NSYNC, BSB ... whatever.
NLT (Not Like Them), if you look at them closely, have followed the boyband rules to a T. For example:
- There are at least four guys, so if they stand in a diamond formation, you can see all of them.
- Two guys sing lead: one is decent, the other is superb.
- There's one blonde guy, who's probably everyone's favorite because he's super cute.
- There's a creepy guy who made a bad hair choice of wearing a ponytail (re: Chris Kirkpatrick's braids, Nick Carter's manbangs, Howie D's long hair. Ugh.)
- There's a lot of dancing. A lot.
- Hand movements are in full use, especially the one where they tap their chest, meaning, "I love you, you're in my heart."
Other things to really mention is that for some reason, they look completely different from the boybands of the past, especially in image. If you see a picture of them, they look like the next coming of
Fall Out Boy
or
Panic! At the Disco
. Also, their sound has the typical Timbaland-infused beat, whereas 90s boybands had the Swedish influence of
Max Martin
and
Kristian Lundin
. I figure Chris Stokes is going for ... I dunno, NKOTB 08, or even a white B2K? It's official, I guess: Chris Stokes is the new
Maurice Starr
. None the less, I love it all.
Anyway, I've gone all mad on the whole thing, and I'm even pimping their song on my mySpace. But here's the video to "She Said, I Said," produced by
Timbaland
(who else?), which reminds me a little bit of the old music videos of yore that had some kind of lame story to it, and some girl who's wearing a cropped shirt for the sole reason of showing her belly. And she seems pathetic, too. They also do a lot of JT-like choreography, which in my book is enough to win me over.
Visit:
NLT
(official),
NLT's mySpace
Further reading:
B2K's former manager denies sexual molestation allegations
(MTV)